Living My Life Like It's Golden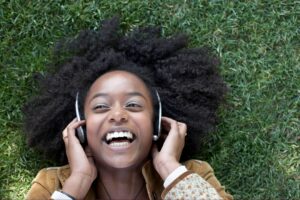 In many ways it was my spiritual journey that led me to a 9-month coaching certification training in 2006. There was a longing in my soul for more meaning and depth of connection than I was finding in my corporate job and on the soul-crushing quest to attain the "American Dream."
I felt a deep desire to connect with my ancestral African roots, to live more in harmony with nature and with much more simplicity, and to connect with others in a rich, trusting community where I could explore my true calling and also show up authentically – flaws and all.
The training, with its mind, body, soul and spirit approach to coaching felt right to me intuitively, and joining led me on a path of transformation that I couldn't have anticipated at the time.
Three recording artists have songs that speak deeply to my growth experience as a coach: Rachel Bagby's I Am a Full Woman, India Arie's Break the Shell, and Jill Scott's Living My Life Like It's Golden. Each in its own way contributed to who I've become, what's deeply important to me, and the impact I choose to have in the world.
As a "full woman," I define my truth and purpose rather than jumping through the hoops that others define and create. I honor the fullness of my African ancestry and the resilience and sacrifices of my African-American ancestors, and I serve my communities in ways that bring social injustices to light as we work for social change.
As a full woman with social consciousness, I can shed light on food quality and access issues, educational disparities, criminal justice issues, and more that adversely impact underserved communities. At the same time, I can also support people to access the power that we do have to co-create and advocate for changes that improve the health and well-being of our communities.
From Break the Shell, India Arie reminds me that "shadows make you whole" and that if you listen to the lessons of the shadows and the pain "you'll find the gold." She goes on to say:
Child it's time to break the shell
Life's gonna hurt but it's meant to be felt
You cannot touch the sky from inside yourself
You cannot fly until you break the shell.
This is my personal journey, and I wonder if it is yours too. We feel the fullness of our feelings, learn from them, transform our limiting beliefs, heal the old wounds, break through the shells that hold us back, and then learn to fly.
Flying does not mean perfection and that all is wonderful. It means that we get to define success for ourselves. We get to do what's needed to honor our values and get our needs met. It means feeling the fear and also embracing our courage to take the next truly meaningful step(s). And it means living authentically while also making a difference in our families, our workplaces, our communities and in the world.
To me this is what it means to live my life like it's golden, and it feels so much more alive and empowering than chasing the elusive "American Dream."  Coaching equipped me for this path of fulfillment and joyful living, and I love teaching and supporting others to do the same! What does living your life like it's golden mean to you?